Uconnect Freezes or Boots Into A Blank Screen That Doesn't Work
Posted on

Tagged
Key Points
Uconnect infotainment systems often freeze or boot into a blank screen.
Chrysler sent out an over-the-air update in 2018 that only made things worse.
A number of class-action lawsuits say the system is dangerously distracting.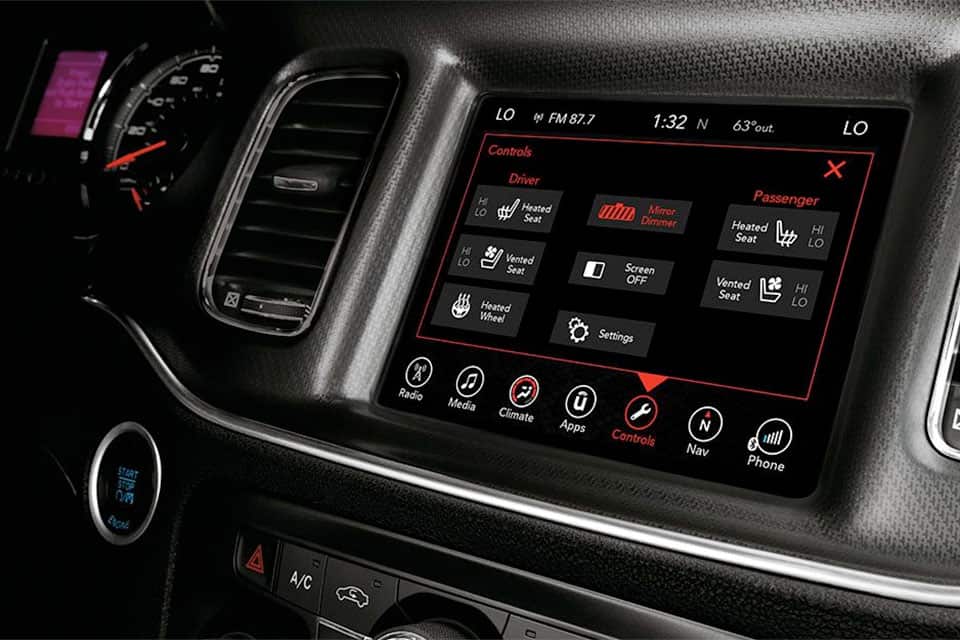 Chrysler has been installing Uconnect systems in vehicles for over a decade. In that time the technology has broadened and the screens have grown, but one thing remains the same – the darn thing keeps freezing, become unresponsive to touch inputs, and randomly reboots.
And while not having access to radio stations or heated seats is an inconvenience, it's much more problematic when features like climate control are hidden behind the now unresponsive touch screen interface. Not to mention the backup camera, navigation, heated seats, and other features.
Top Complaints About UConnect ∞
uConnect's long list of problems has a frustratingly short list of solutions, most of which require shutting down the car so the system can reboot. Basically it's the Comcast approach to solving problems ... unplug it and plug it back in.
The screen freezes up or goes blank ∞
One of the main complaints about UConnect is how the system freezes up. With a black, unresponsive screen, owners are left without a way to control the radio, navigation, remote locking, climate control, and other important features.
Jumping between inputs ∞
On its own, the system will switch between input sources. So from the radio, to XM, to the USB, and so on. There's nothing quite like singing along to your favorite song only to have the song suddenly stop so everyone can hear your lovely(?) singing voice.
Other annoyances: ∞
The radio reception is borderline useless. Yes, people still use the radio.
It suddenly won't recognize USB media drives it previously recognized. That's just cold.
Sometimes the controls work, but the audio is missing.
The Over-the-Air Update Fiasco ∞
In February of 2018, FCA sent out an over-the-air software update that promptly caused thousands of units to endlessly reboot every 45 seconds or so.
That…didn't go over well. Especially since some owners say there wasn't even an option to decline the update.
@UconnectCares I despise you with every fiber of my being. Love listening to music in 34 second spurts for the last 2 days. #uconnect @jeep #jeep pic.twitter.com/6vmuv5BNrl

— Melanie Gaston (@mgastonville) February 12, 2018
The endless reboots would continue even if the cars were off and the keys were nowhere nearby. That led to a lot of dead batteries and frustrated owners.
The uConnect team acknowledged the update problem on February 13th and tied it to issues with the ever-so-useless SiriusXM Travel Link feature. They also said the problem was regional to the northeast US and Canada and was limited to vehicles with the uConnect 4C NAV and 8.4-inch touchscreen.
Uconnect Class-Action Lawsuits ∞
Fed up owners have filed lawsuits against Fiat-Chrysler (FCA) for their ongoing Uconnect problems.
In 2017 a class-action lawsuit was filed after the plaintiffs said multiple replacements of the Uconnect system did nothing to address the underlying problems. The same goes for the 45 technical service bulletins that Chrysler had send to authorized technicans.
The Kansas-based lawsuit had plans of earning nationwide status. That was shot down when the judge ruled the plaintff's based their claims on state law which cannot govern out-of-state transactions.
In 2019, another class-action was filed against FCA for making misleading claims that Uconnect "is always evolving to help meet your safety, security, information and lifestyle needs" and that the system lets drivers "[k]eep in touch where ever you go."
The California-based suit said the reality is there's no such evolution. The system is constantly malfunctioning, creating dangerous distractions and diminishing the resale value of the vehicles.
A similar suit was filed in Michigan in 2020. The suit specifically mentions problems with the 8.4A and 8.4AN systems in the 2017-2019 Chrysler 300 and Pacifica.
Lawsuits Regarding This Problem
Lawsuits about this problem have already been filed in court. Many times these are class-action suits that look to cover a group of owners in a particular area. Click on the lawsuit for more information and to see if you're eligible to receive any potential settlements.
This plaintiff alleges their Dodge Dart Uconnect system began to freeze and then shut off in April 2016, leaving a blank, black screen that didn't work, so the plaintiffs took their car to a dealership for repairs while the Dart was still under warranty. The dealership replaced the Uconnect system on May 14, 2016, but that same day the replacement system began to randomly black out.
Generations Where This Problem Has Been Reported
This problem has popped up in the following Chrysler generations.

Most years within a generation share the same parts and manufacturing process. You can also expect them to share the same problems. So while it may not be a problem in every year yet, it's worth looking out for.
Further Reading
A timeline of stories related to this problem. We try to boil these stories down to the most important bits so you can quickly see where things stand. Interested in getting these stories in an email? Signup for free email alerts for your vehicle over at CarComplaints.com.
A second lawsuit has been filed concerning Uconnect defects in the 2017-2019 Chrysler 300 and Pacifica.

Much like the first, the plaintiffs claim the system is nothing but an endless series of reboots and headaches.

The plaintiffs say the Uconnect 8.4A system is still defective after multiple replacements. And that there's at least 17 technical bulletins about the 4th generation Uconnect system, but none of them seem to actually do anything productive.

The case, Pistorio, et al., v. FCA US LLC, was filed in Michigan.

keep reading

article "Lawsuit Says Chrysler's Uconnect Often Freezes and Loses All Functionality"

There's something seriously wrong with the 8.4A and 8.4AN Uconnect systems and a lawsuit wants Chrysler to do something about it.

Namely because the defects limit access to backup cameras, navigation systems, and climate control.

But also because having the system freeze and endlessly reboot is super annoying. Full stop.

The plaintiffs tell the familiar tale of bringing in their vehicle multiple times and having software updated and parts replaced. And yet, the problems still exist and dimish the resale value of their cars.

The case, Gerritsen, et al., v. FCA US, LLC, et al., was filed in California.

keep reading

article "Uconnect 8.4A System and Repair Process Is Woefully Defective, Says Lawsuit"

Chrysler won't face a nationwide class-action lawsuit for their Uconnect woes. At least not yet.

A lawsuit filed in Kansas saught nationwide status but the judge ruled the plaintiffs based their claims on Kansas law which cannot govern out-of-state transactions. The case will continue for Kansas owners who purchased or leased a Chrysler vehicle with an 8.4-inch Uconnect system on or after 01/23/2013.

The plaintiffs claims are something most Chysler owners are familiar with. The Uconnect system freezes, the screen goes blank, and there's no way to control the climate or view the backup camera. The lawsuit said the problems continue even after multiple replacements of the entire system.

keep reading

article "Kansas Based Uconnect Lawsuit Won't Get Nationwide Status"
OK, Now What?
Maybe you've experienced this problem. Maybe you're concerned you will soon. Whatever the reason, here's a handful of things you can do to make sure it gets the attention it deserves.
File Your Complaint

CarComplaints.com is a free site dedicated to uncovering problem trends and informing owners about potential issues with their cars. Major class action law firms use this data when researching cases.

Add a Complaint

Notify CAS

The Center for Auto Safety (CAS) is a pro-consumer organization that researches auto safety issues & often compels the US government to do the right thing through lobbying & lawsuits.

Notify The CAS

Report a Safety Concern

The National Highway Traffic Safety Administration (NHTSA) is the US agency with the authority to conduct vehicle defect investigations & force recalls. Their focus is on safety-related issues.

Report to NHTSA