Chrysler's Electronic Shifter is Dangerously Confusing
Posted on

Tagged
Key Points
Chrysler's monostable electronically controlled gear shifter is confusing to use.
It's believed the design is responsible for hundreds of rollaways after drivers thought they put their car in PARK.
An investigation eventually led to a recall that required Chrysler to install additional safety warnings in cars with this design.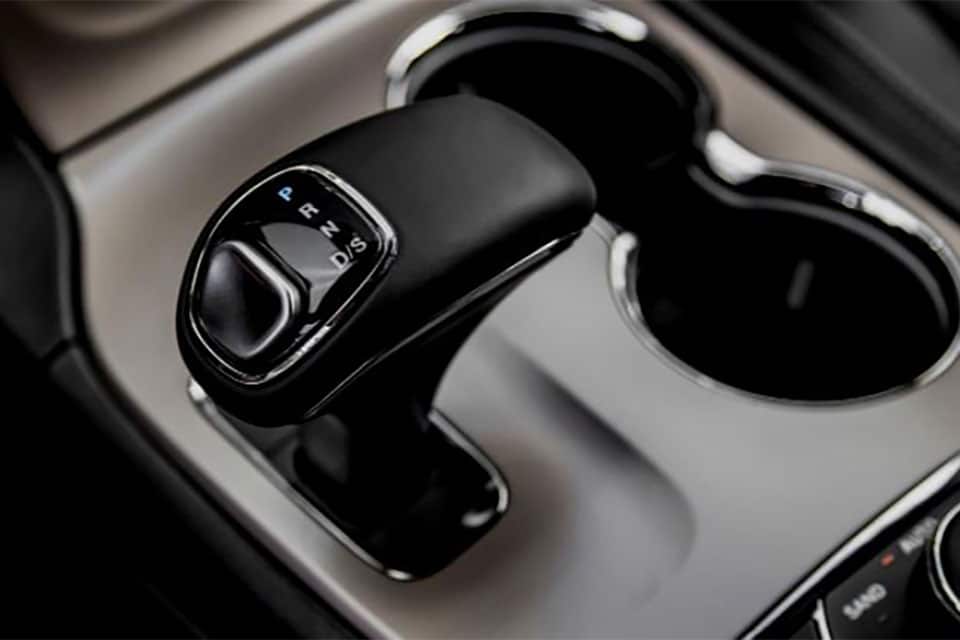 Like most things nowadays, automakers are taking standard and intuitive technology and digitizing it.
Electronic Gear Shifters ∞
One of the newest trends are electronic gear shifters, or e-shift. Since they are no longer mechanically tied to the transmission, automakers are no longer tied to traditional designs. That means we're seeing classic "PRNDL" (park, reverse, neutral, drive, low) levers replaced with dials, knobs, touch-screens, and buttons.
The new designs are generally smaller, allowing more room for that extra cup holder you really don't need. Or a wireless charging pad for that device you shouldn't be looking at. Or a flippin' espresso machine that can make 200˚ beverages as you navigate traffic.
Chrysler's Monostable Design ∞
In some ways, FCA's first pass at an electronic gear shifter took a less radical design departure than other automakers. It was still a lever, of sorts, and while smaller it was found roughly in the same place you'd expect.
However, maybe keeping it a lever worked against FCA. Because while it may look traditional, it operated a hell of a lot differently.
The shifter is monostable, which means whenever it's pushed up or down the lever always returns to center. That's a big change from traditional shifters.
While FCA gives a visual indication of the gear in the console, the lever itself lacks tactile feedback making it hard to feel which gear you're in.
It strays from the traditional "PRNDL" gear order that has been standard for so many years. Instead, a driver has to push up to get into reverse, down for drive, up for down, cats for dogs, etc. It's just not intuitive.
Simply put, owners have complained that the shifters are confusing. The clicks between gears are so hard to detect that if the gear selector isn't moved just right, drivers may end up in neutral when they thought they were in drive, or reverse when they thought they were in park.
To be clear, FCA's e-shift works just as the design intended, the only problem is the design suuuuuucks. It sucks so bad that even had to release a video describing how to properly shift your transmission.
NHTSA Investigations into e-Shift Design Lead to a Recall ∞
In August 2015, the National Highway Traffic Safety Administration (NHTSA) opened an investigation into the gear shifters, but limited their scope to the 2014-2015 Jeep Grand Cherokee.
NHTSA noticed complaints submitted by Jeep owners and identified similar reports contained in early warning documents submitted by Fiat Chrysler.
By the following February, NHTSA expanded their investigation to include the 2012-2014 Dodge Charger and Chrysler 300.
NHTSA says to date, there are 306 incidents of Jeep Grand Cherokees rolling away after owners believed the SUVs were shifted into "Park." The 306 rollaway incidents resulted in 117 alleged crashes and 28 injuries. Those injuries include pelvic fractures, broken kneecaps, a ruptured bladder, busted ribs, sprained knees, trauma to the legs, lacerations to the face and various other injuries.
FCA Recalls 1.1 Million Vehicles for Rollaways ∞
Feeling the heat from NHTSA, FCA decided to recall all the investigated vehicles in April 2016.
Safety regulators say testing shows the Monostable shifters don't do a good job of providing gear selection information.
The automakers recall fix involved a 3-hour software update to add additional warnings, and automatically shift to PARK and shut the engine off when the vehicle speed is 1.2 mph or less and the ignition On/Off button is pressed.
FCA US has therefore determined that the absence of an additional mechanism to mitigate the effects of driver error in failing to shift the monostable gear selector into PARK prior to exiting the vehicle constitutes a defect presenting a risk to motor vehicle safety.
Actor Anton Yeltsin Killed in Accident Involving the e-Shift Design ∞
The rollaway recall gained widespread attention following the death of actor Anton Yelchin, who owned a 2015 Jeep Grand Cherokee.
The investigation is in the beginning stages and information is limited, but it's known Yelchin exited the Jeep Grand Cherokee which rolled backward and down a driveway, pinning the actor between the Jeep and a concrete mailbox.
The Center for Auto Safety called Yelchin's death an example of incompetence by federal regulators and automakers in discovering, fixing, and alerting owners of potentially deadly defects.
FCA issued an interim notification letter that said the gear selectors would be repaired by the fourth quarter of 2016, something CAS says proves the automaker wasn't too concerned about the matter.
Why Wasn't There a Fail-Safe In Place? ∞
Jonathon Linkov, Consumer Report's deputy auto editor, wonders why there wasn't a fail-safe in place.
"It is confusing and odd and then it doesn't have any safety mechanism. What we would like to see is that there is a fail-safe so at the end of the day you don't have a problem with cars going to launch forward, roll backward, move in some way that the consumer's not expecting it."
BMW and Mercedes have fail-safe modes in place that automatically put the car in park if the car is in neutral and the door is opened or the keyless ignition is pressed.
A Change in Design ∞
Even though they had closed their investigation, NHTSA later announced FCA's electronic shifters are just poorly designed:
"appear to violate several basic design guidelines for vehicle controls"
FCA changed from a monostable to a polystable design in 2016, and gave other vehicles completely new gear shift assemblies. For example, the 2017 Grand Cherokee sports a traditional shift lever, and the Durango and Chrysler 300 use rotary-dial shifters.
The gear shifter in question can be found in 2014-2015 Jeep Grand Cherokees, 2012-2014 Dodge Chargers, and 2012-2014 Chrysler 300 vehicles.
Lawsuits Regarding This Problem
Lawsuits about this problem have already been filed in court. Many times these are class-action suits that look to cover a group of owners in a particular area. Click on the lawsuit for more information and to see if you're eligible to receive any potential settlements.
A Fiat Chrysler (FCA US) electronic gear shifter class-action lawsuit alleges more than 1 million Chrysler, Dodge and Jeep vehicles have electronic shifters that are hazardous to your health.
Generations Where This Problem Has Been Reported
This problem has popped up in the following Chrysler generations.

Most years within a generation share the same parts and manufacturing process. You can also expect them to share the same problems. So while it may not be a problem in every year yet, it's worth looking out for.
2nd Generation 300

Years

2011–2020

Reliability

16th out of 29

PainRank™

7.96

Complaints

172

Learn more about the 2nd Generation 300
OK, Now What?
Maybe you've experienced this problem. Maybe you're concerned you will soon. Whatever the reason, here's a handful of things you can do to make sure it gets the attention it deserves.
File Your Complaint

CarComplaints.com is a free site dedicated to uncovering problem trends and informing owners about potential issues with their cars. Major class action law firms use this data when researching cases.

Add a Complaint

Notify CAS

The Center for Auto Safety (CAS) is a pro-consumer organization that researches auto safety issues & often compels the US government to do the right thing through lobbying & lawsuits.

Notify The CAS

Report a Safety Concern

The National Highway Traffic Safety Administration (NHTSA) is the US agency with the authority to conduct vehicle defect investigations & force recalls. Their focus is on safety-related issues.

Report to NHTSA