A Wide Range of Electrical Gremlins Can Be Traced to Chrysler's TIPM Problem
Posted on

Tagged
Key Points
Totally Integrated Power Module (TIPM) problems cause a wide array of electrical nightmares in Chrysler vehicles.
Complaints include the the fuel pump failing to send fuel to the engine, the horn randomly going off, and airbags that randomly deploy.
Chrysler has released a number of TIPM-related recalls but owners continue to have problems.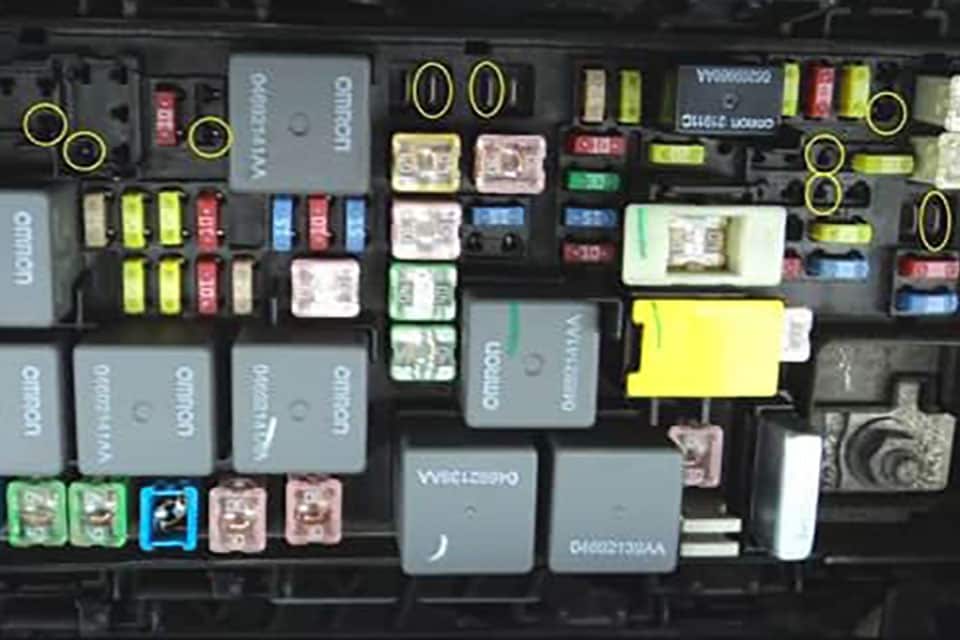 Imagine waking up to find your car's windows rolled down, the blower motor running and the radio blasting. You have a couple logical explanations here:
The car is possessed and needs to be burned.
The car has a defective totally integrated power module (TIPM).
Honestly, I'm not sure which is worse.
What is a Totally Integrated Power Module (TIPM)? ∞
If you've heard of a TIPM, chances are you own a vehicle from Fiat-Chrysler (FCA). Most likely a Chrysler, Jeep or Dodge.
Think of the TIPM like a command center for all the electrical functions of your car. Want to turn on your wipers? That has to go through the TIPM. Need the fuel pump to turn on after you turn the key? You'll have to run it through TIPM first.
It's the nerve-center of your car's electronics and it distributes power to everything from safety to ignition systems. That means it's very important. It also means when something inside the TIPM goes wrong, you're better off taking the bike to work.
It's widely believed that hundreds of thousands (or millions according to some) of 2007-2014 Chrysler vehicles have defective TIPMs that are putting owners in dangerous and sometimes just odd situations.
"Chrysler's TIPM is a computer run amuck – owners report that their vehicles act as if possessed and leave them in dangerous situations – stalled vehicles stranded without warning on the highway, fuel pumps that won't shut off, windows that open and shut, airbags that won't deploy. --- Center for Auto Safety Director, Clarence Ditlow"
Typical symptoms of a TIPM failure ∞
The fuel pump not turning off and burning out
The airbags not deploying OR deploying randomly
The engine stalling while driving
The starter cranks but won't start
The horn going off at random times
Power windows not working
Doors locking or unlocking themselves
In other words, having a vehicle with a faulty TIPM is like driving something possessed.
TIPM Problem Data ∞
According to data submitted by owners to CarComplaints.com, the average TIPM repair cost is $1,200 and many reports occur under 40,000 miles. Complaint data from the National Highway Traffic Safety Administration mirrors those reports.
The 2011 Jeep Grand Cherokee has the most TIPM-related complaints. Although it's the 2011 Dodge Grand Caravan that was most recently seen near the top of the current problem trends.
FCA Vehicles with Suspected TIPM Problems ∞
The Center for Auto Safety (CAS) filed a petition asking NHTSA to investigate alleged problems with Totally Integrated Power Modules (TIPMs) installed in Chrysler vehicles since 2007. Nearly a year later, that petition was denied.
Defective TIPMs are widely believed to be in millions of Chrysler vehicles manufactured between 2007 and 2014.
Chrysler's TIPM Recalls ∞
In July 2007 Chrysler issued a recall for the 2007 Jeep Wrangler and Dodge Nitro. The vehicles were stalling out and Chrysler placed the blame on a timing error inside the TIPM.
In July 2013 Chrysler recalled vehicles with airbags that weren't deploying. The fix involved "reflashing the TIPM."
Facing pressure from consumers, organizations like CAS, and pending lawsuits, FCA issued a recall for certain Dodge Durango and Jeep Grand Cherokees with faulty TIPMs in September 2014.
In February 2015 FCA issued another recall of defective TIPMs in 2012-13 Durangos that were causing fuel pump relay problems.
Overall, a very small percentage of vehicles believed to have faulty TIPMs have actually been recalled for the issue:
Chrysler TIPM Settlement ∞
If you own a 2011, 2012, or 2013 Jeep Grand Cherokee or Dodge Durango, there's good news. Girard Gibbs, LLP reached a proposed settlement with FCA to end a pending TIPM lawsuit[1]. The settlement includes:
Free fuel pump relay repairs
An extended warranty on fuel pump repairs up to 7 years / 70,000 miles (whichever comes first)
Reimbursement for previous TIPM replacements, diagnostics, and rental car expenses.
To see your options or to find out how to submit a claim, visit TIPMsettlement.com.
Additioinal Settlement Details ∞
Chrysler wants everyone to know they're not admitting a defect or a liability exists and they're only settling to "avoid costly long-term litigation." Whatever makes you sleep at night, guys.
Chrysler acknowledges that finalization of the terms of the agreement is based on a voluntary recall of 2012–2013 Jeep Grand Cherokee and Dodge Durango SUVs to install a stronger pump relay external to the TIPM–7
Reimbursement costs can go up to $1,200.
A National Backorder of TIPMs ∞
Of course, it's not all rosy. The problem is so widespread that replacement TIPMs are on national back-order! Chrysler remains silent while owners are left scrambling to pay for and order the part.
One Flower Mound, Texas Jeep owner told CarComplaints.com what it's like trying to get the needed replacement part:
"The part is on backorder for MONTHS! And, Jeep [Chrysler] does not care about its customers. We have been told that it will take 2–4 weeks for the part to arrive, and we are not being provided a free rental during this time. We are expected to wait a month, which from what I have read on forums, etc., may not be true, but more than likely will be 2 or 3 months, for the vehicle to be repaired."
TIPM Timeline ∞
To recap, here's where we stand with TIPM problems:
July 3rd, 2007: Chrysler issued a recall for 296,550 Jeep Wrangler and Dodge Nitro vehicles from the 2007 model year. The vehicles were known to stall because the TIPM would reset itself due to a timing error.
July 2nd, 2013: Chrysler recalled some vehicles that had airbags which weren't deploying. The fix involved the dealers "reflashing the totally integrated power module)."
November 22nd, 2013: A class-action lawsuit was filed against Chrysler for ignoring dangerous power management issues and a long wait for replacement problems.
August 22nd, 2014: The Center for Auto Safety (CAS) petitioned the National Highway Traffic Safety Administration (NHTSA) and asked them to open an investigation into TIPM issues. The CAS estimated 7 million vehicles have power issues.
August 28th, 2014: A judge denied Chrysler's motion to dismiss the class-action lawsuit from November of 2013.
September 21st, 2014: Chrysler issues a recall for 189,000 vehicles including certain Dodge Durango and Jeep Grand Cherokees with bad TIPMs.
November 16th, 2014: Another TIPM lawsuit gets filed in New York. It alleges Chrysler concealed the defect since 2005 and continued to install faulty parts until the 2014 model year.
February 28th, 2015: Chrysler issues another recall for 467,000 SUVs because of fuel pump relay problems that cause engine stalling or starting problems.
August 2nd, 2015: Nearly a year after the CAS petition, NHTSA says there's no need to investigate FCA vehicles for stalling engines.
September 20th, 2015: Chrysler agreed to settle the Dodge and Jeep TIPM lawsuit from November of 2013.
---
Velasco et al. v. Chrysler Group LLC, Case No. 2:13-cv-08080 ↩︎
Lawsuits Regarding This Problem
Lawsuits about this problem have already been filed in court. Many times these are class-action suits that look to cover a group of owners in a particular area. Click on the lawsuit for more information and to see if you're eligible to receive any potential settlements.
Dodge Durango and Jeep Grand Cherokee TIPM problems will finally be fixed after a federal judge granted preliminary approval to a "totally integrated power module" (TIPM) class-action lawsuit.

The lawsuit alleges the named vehicles have defective Totally Integrated Power Modules, also known as TIPMs. The TIPM controls and distributes power to all of the electrical functions of the vehicle, including the vehicle safety and ignition systems.
Generations Where This Problem Has Been Reported
This problem has popped up in the following Chrysler generations.

Most years within a generation share the same parts and manufacturing process. You can also expect them to share the same problems. So while it may not be a problem in every year yet, it's worth looking out for.
OK, Now What?
Maybe you've experienced this problem. Maybe you're concerned you will soon. Whatever the reason, here's a handful of things you can do to make sure it gets the attention it deserves.
File Your Complaint

CarComplaints.com is a free site dedicated to uncovering problem trends and informing owners about potential issues with their cars. Major class action law firms use this data when researching cases.

Add a Complaint

Notify CAS

The Center for Auto Safety (CAS) is a pro-consumer organization that researches auto safety issues & often compels the US government to do the right thing through lobbying & lawsuits.

Notify The CAS

Report a Safety Concern

The National Highway Traffic Safety Administration (NHTSA) is the US agency with the authority to conduct vehicle defect investigations & force recalls. Their focus is on safety-related issues.

Report to NHTSA